The Northumberland Coast Path Passport is a must for walkers. The passport will end up being a treasured possession, a great reminder of all the places you have stopped at or stayed overnight.
Many of the cafes and restaurants, shops and other businesses you will stop at along the way will have their own individual stamp and will stamp your passport for you - they are known as 'Welcome Ports'. They will also provide you with the information about the trail, the weather and public transport. Some of the businesses will also offer you a discount as a passport holder and most of them will fill up your water bottle for free.
You will need to collect at least two stamps per day to claim your official 'Northumberland Coast Path Certificate' at the end of your walk.
Passport packs, including the passport itself, a list of partaking businesses and a certificate order form are available here. Some passport businesses will also be able to sell you a passport pack.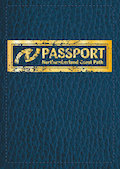 Frequently Asked Questions
Yes. You will need to buy a passport pack here. Get your passport stamped at places along the way and you can claim your free certificate. You can collect a certificate at Berwick Tourist Information Centre or we can post it to you.