Should I walk north or south?
This guidebook is written from south to north, starting at Cresswell and ending at Berwick-upon-Tweed. There are two reasons for this:
The sun always shines in Northumberland (almost….) and we wouldn't want the glare to spoil the views, so walk north with the sun on your back.
The Northumberland Coast is often a windy place and this wind prevails from the south-west. If you walk north the wind will normally be in your favour.
You can of course walk south and the trail is equally well way-marked and signed in both directions.
How will I find my way?
The trail is well way-marked along its length.
From Cresswell to Warkworth and north of the Holy Island causeway you will find these way-mark discs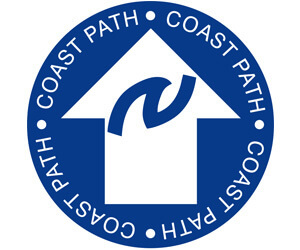 And between Warkworth and Holy Island you will find these way-mark discs, shared with St. Oswald's Way.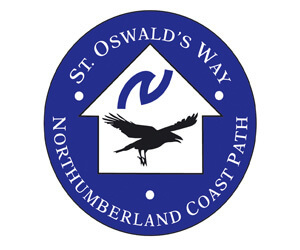 Even though the route is well signed and way-marked, we recommend that you use the relevant Ordnance Survey Maps. The route of the path is marked on both the 1:50 000 Landranger Maps and the 1:25 000 Explorer Maps.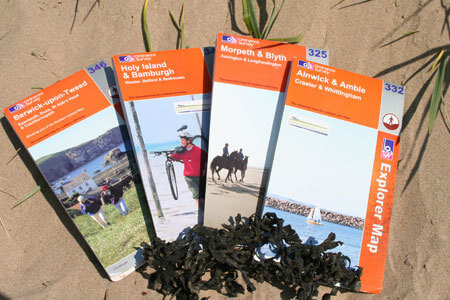 Maps:
Explorer 325 – Morpeth and Blyth - buy it
Explorer 332 - Alnwick and Amble - buy it
Explorer 340 - Holy Island and Bamburgh - buy it
Explorer 346 – Berwick-upon-Tweed - buy it
Or
Landranger 81 Alnwick and Morpeth - buy it
Landranger 75 Berwick-upon-Tweed - buy it
Harvey's also produce a waterproof map for the Northumberland Coast Path and Berwickshire Coastal Path (XT40) - buy it
GPS and Smart Phone Apps
The route of the Northumberland Coast is marked in diamonds on Ordnance Survey Maps, including the digital base maps available for mobile phones. Various apps exist that enable to you save maps onto your phone and use it as a GPS unit. You can also download various GPX and other files for GPS units but we can't be liable for their accuracy.
Clothing and footwear
Compared to the rest of the UK, Northumberland's climate may be described as dry, cool and sunny. Although the Northumberland Coast is one of the driest places in England, with an average of only 650mm per year, you should be prepared for rain.
Occasionally you might encounter mud on the path, particularly through agricultural areas so we recommend good, lightweight and waterproof walking boots. Although the path is generally flat, we also recommend that your boots should provide ankle support.
Mobile Phones
Mobile phone reception can be patchy in places, especially between Alnmouth and Seahouses so don't rely on you mobile phone for communication on the trail. If you are walking alone, make sure you leave your travel plan with your accommodation provider and check in when you reach the end of a day's walk.
Can I do the route on horseback or by bike?
The route runs parallel to but does not follow, the NCN1 Coast and Castles bike route.
Parts of the Path and the NCN1 bike route may be accessible on horseback. However, to do so would mean obtaining the necessary permissions from each landowner whose land you pass through. Given that this may not be possible, we cannot recommend completing the Northumberland Coast Path on horseback.
Evaluation Form
Have you already walked the Northumberland Coast Path? We'd be grateful if you would complete our evaluation form to let us know how it was. The information you provide will be used to advise future walkers.
Frequently Asked Questions
You can't cycle along the Northumberland Coast Path because much of it is on public footpaths where there is no right of way for cyclists. The Coast and Castles Cycle Route follows the Northumberland coast and runs parallel to the Coast Path for much of the way.
There isn't accomodation in Cresswell. We recommend that you stay in the Plough Inn at Ellington, a pleasant mile-long stroll from the start at Cresswell.
If the Plough is full there is accommodation in nearby Ashington or Morpeth.
We recommend that you stay in Alnwick or if you want to be by the sea, in Alnmouth. These places have the best bus links to starting points both North and South.
Yes. You will need to buy a passport pack here. Get your passport stamped at places along the way and you can claim your free certificate. You can collect a certificate at Berwick Tourist Information Centre or we can post it to you.